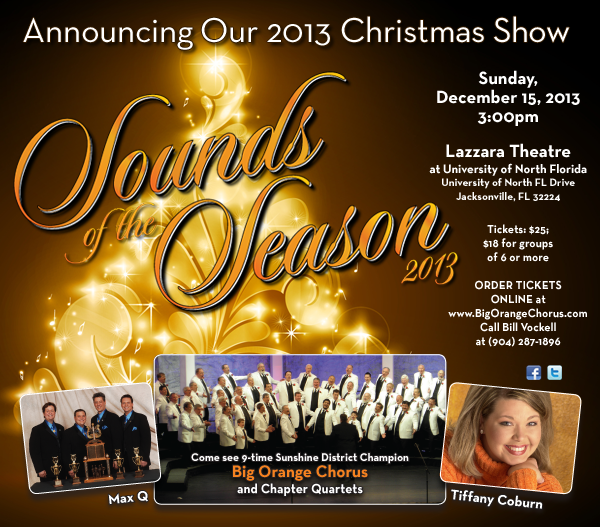 Featuring The Big Orange Chorus and special world-class musical guests
International Quartet Champion Max Q and vocalist Tiffany Coburn

University of North Florida Lazzara Theatre
Sunday, December 15, 2013, 3:00 pm

Come Join Us for an Evening of Holiday Harmony!
Tickets are $25 and $18 for groups of 6 or more.
Click HERE to Order Tickets.
You may also purchase show tickets directly from your local Big Orange Chorus member
or by calling Mr. Bill Vockell at (904) 287-1896. We accept most major credit cards.
Do You Like to Sing?
The Big Orange Chorus is welcoming guests and men who are interested in joining us in the world-wide brotherhood of mens a cappella singing. No experience is required; we provide music and voice training and an enjoyable singing experience under world-class leadership. Our repertoire of music is both fun and spans many styles and difficulty levels in addition to traditional barbershop. Many learning materials are provided to help singers learn and develop skills and proper singing techniques, and we perform highly-rated shows in many top-notch venues to well-established and receptive audiences. Please visit our Membership page today, or simply come and visit one of our rehearsals in Jacksonville. We'd love to have you as our guest!
Youth In Harmony 2013 Workshop...
Third Annual "Youth in Harmony" Program is Big Success

Jacksonville, Fla. – October 30, 2013 – The Big Orange Chorus, Jacksonville's men's barbershop and a cappella chorus, together with The Barbershop Harmony Foundation, Sunshine District, and Jacksonville Harmony Chorus, held their annual Youth in Harmony event at FSCJ Deerwood Campus. Over 100 high school students and over 20 adult volunteers attended. Talented clinicians and quartets taught and demonstrated a cappella harmony to the seventy-three girls and thirty-three boys in attendance for several hours of barbershop instruction and rehearsal. The day closed with the students showing the result of their efforts with boys chorus singing to the girls and the girls chorus singing to the boys. Their efforts were very well received by an appreciative and responsive audience.

At the end of the day, completion certificates and Big Orange Chorus Christmas show vouchers were presented to each participant. It was a very exciting and very successful day for the kids, the clinicians, and the many volunteers who helped make this event possible.


Annual "Sounds Of The Season" Christmas Show...
Save The Date - Big Orange Chorus Announces Annual Christmas Show

The Big Orange Chorus is pleased to announce our annual Christmas Show, "Sounds Of The Season," to be held Sunday, December 15th at 3pm in the beautiful UNF Lazzara Theatre. Joining the 9-time state-champion chorus will be 2007 International Gold medalist quartet Max Q. The show will also feature additional guest talent. Watch for upcoming announcements here.

Tickets will be available for $25 with groups of 6 or more receiving a special rate of $18 per ticket. Additional show details and ticket purchase information will be posted in the coming weeks at http://www.bigorangechorus.com and on Facebook at www.facebook.com/bigorangechorus.

A B O U T O U R C H O R U S
The Big Orange Chorus is a fun and friendly group of guys who enjoy singing barbershop and other styles of music. As a chapter of the international Barbershop Harmony Society, we perform frequently in the Jacksonville community. Membership in our chorus is open to men of all ages who like to sing.

Our goal is to produce quality singing in a fun and entertaining way. We offer an opportunity for men to learn and improve their vocal abilities while performing in the local community under the auspices of an international organization. We are growing and are presently looking for male singers in all voice parts.

Chorus rehearsals are usually held at Shepherd of the Woods Lutheran Church in Jacksonville on Thursday nights at , however certain special events and special performances require that we occasionally hold rehearsals on Monday nights. Guests should always call us at (904) 355-SING or check the Chorus Calendar and the list below for specific rehearsal dates prior to planning a visit.

Keep checking this site for news on the progress of The Big Orange Chorus, Florida's championship and internationally-ranked mens barbershop chorus.


G U E S T S a r e W E L C O M E !
U P C O M I N G S C H E D U L E
Non-members are always welcome. We can introduce you to
the wonderful world of barbershop harmony. The Big Orange Chorus
welcomes guests of all ages at weekly rehearsals. Dads, bring your sons!
Unless otherwise noted, all meetings are held at
Shepherd of the Woods Lutheran Church on Southside Blvd in Jacksonville.
Get maps, and additional information, by visiting the Jacksonville rehearsal page.

Sun, Dec 8
5:30pm
Performance - SOTW Christmas Tree Lighting
Lake Campus off Greenland Rd
Thu, Dec 12
7:30pm - 10:00pm
Rehearsal, Jacksonville
Sun, Dec 15
3:00 pm Curtain
Performance - "Sounds Of The Season" - UNF Lazzara Theatre


- - Christmas and New Year Break - -

See you in 2014!
Please note that our Rehearsal Schedule is subject to occasional changes.
More rehearsals will be announced soon - please check our Master Calendar.

Do You Want To Receive Chorus Announcements In Your E-Mail?
Subscribe to the Big Orange Yahoo Groups messaging service!
This FREE Big Orange service provides:
Special chorus performance information...
News about Big O show tickets and other nearby barbershop events...
Contest information...
Spur-of-the-moment activities and events...
and much more!
To subscribe to the Big Orange YahooGroups list, enter your
email address and then click on the Yahoo! Join Now! button.



You can also subscribe to this list by sending any email message to:
big_orange-subscribe@yahoogroups.com
To unsubscribe send any email message to: big_orange-unsubscribe@yahoogroups.com

Our list is powered by groups.yahoo.com and your Big Orange Chorus members.
To contact the Big Orange Chorus, please visit our Contacts Page.

Comments or questions about this web site?
Send email to webmaster "at" bigorangechorus.com.

We're Listed! Click to Visit:
First Coast Community